Ghost Modernism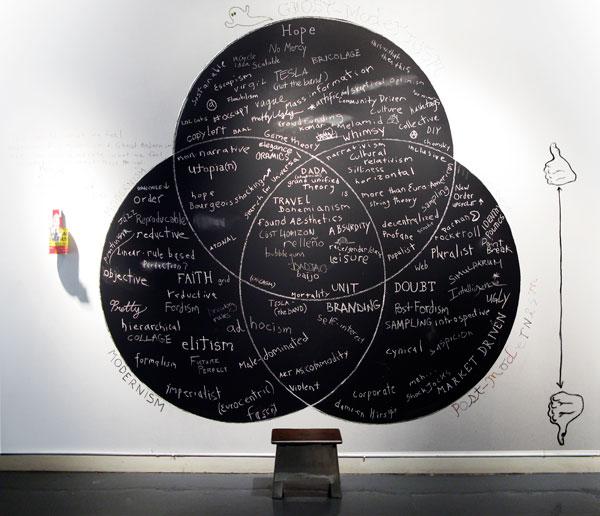 April 14 - April 28, 2013
Quartair Gallery
Bilderdijkstraat 141
2513 CN The Hague
The Netherlands
Feb 19 - March 27, 2013
Transparent Studio
Bose Pacia
163 Plymouth Street
Dumbo, Brooklyn, NY
GHOST MODERNISM started off as a pun, a funny turn of phrase that came in the middle of the night which struck a deeper chord. It spoke to a longing to revisit the idealism of the modernist era and a desire to see what relevance, if any, the ideas of utopia and universalism had to our contemporary situation. For us, Ghost Modernism is not the next stage in a linear evolution so much as the creation of a temporary space where we can think differently. It is a place where we can reclaim the utopian hopes of Modernism informed by the contextual critiques levied by Post-Modernism.
While in residency at Transparent Studio, we developed the Venn diagram wall installation as a way to organize our thoughts. The three intersecting circles represented Modernism, Post-Modernism, and Ghost-Modernism. We created this chart directly on the wall with blackboard paint, and made both chalk and erasers available. Everyone was invited to list their notions of the characteristics of each, and to erase any previous entries with which they disagree. By the end of our residency, the Venn diagram had become a manifestation of our collective hopes, dreams, fears and absurdities.
For our exhibition at the Hague, we created a larger version of the Venn diagram. We also mounted a group exhibition of works exploring the theme. Additional events included a video screening and panel discussion on squatting and social centers.
Artists: Shelly Bahl, Bibi Calderaro, Glen Eden Einbinder, Mike Estabrook, Brian Higbee, Vandana Jain,Ben Knight, Emmanuel Migriño, Alan W. Moore, Huong Ngo, Elizabeth McTernan and Mike Rader. Additional Participants: Kate Moore, Rutger Van Ree.