No Assumption: A Collaborative Exhibition of Art in a Residence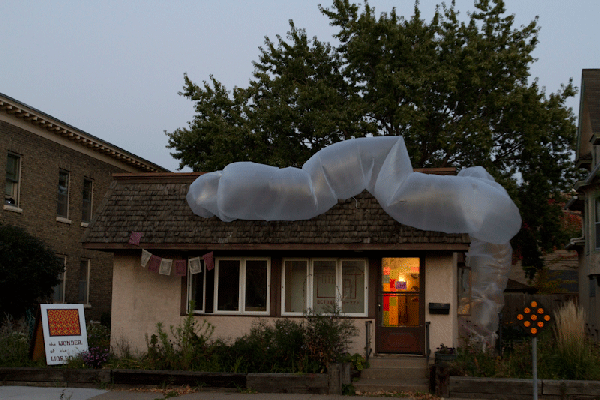 Oct 9 - Oct 22, 2010
1253 Monroe St NE
Minneapolis, MN
NO ASSUMPTION took place in the foreclosed home of a friend. After her mother passed away, she was unable to inherit the house she grew up in, without taking on the full load of debts that had accrued on the house as well. Due to her mother's protracted illness, many of the liens on the house were due to medical debt. Unwilling to assume the debts, she decided to say goodbye to the house instead.
In the months prior to the sheriff's auction of the house, we put out a call to artists working along the themes of domesticity, health care, family, and housing to submit works for consideration. Over 20 artists exhibited work, based mostly in either Minneapolis or New York, with artcodex bringing a contingent of artists and works from the east coast. The entire house was filled, with work spilling over into the outside spaces. The side of the house served as a projection screen, and the backyard hosted several installations. The closing event for the show included two local bands, a fire troupe, and a burning of the effigy of the house.
This project was co-presented with Art of This, where the second War Show took place in 2006. Several of the gallery members were key organizers as well as exhibiting artists.
An archive of the exhibtion lives at: noassumption.wordpress.com