The War Show: Tactics, April 8 - 15, 2006
Future Prospects
Shop 62-63, Marikina Shoe Expo
Cubao, Quezon City
Republic of the Philippines
TEL NO. +63 02 4397838
"Let your plans be dark and as impenetrable as night, and when you move, fall like a thunderbolt". - Sun Tzu
"Tactics" is a group art exhibition in which pairs of artists are set one against another in artistic combat. Artistic collaboration is an important approach to contemporary art practice. It poses a much needed challenge to the art-historical notion of The Individual Creator. No artist creates in a void; each individual, each artwork is a product of a complex interchange of social forces from which artworks are drawn, through which they are made real, and to which they are presented. Collaboration consciously uses this social nature of artistic culture to create a newer, more honest type of art. "Tactics" embraces these idealistic goals of collaboration, but does not ignore the petty, competitive and antagonistic nature of human culture. Though it is true that art is a social creation, the urges to dominate, own, hoard, steal, or subvert are an unavoidable part of this social process. Unlike most collaborative efforts, which try and sublimate these selfish urges to the greater collective good, "Tactics" chooses to highlight them, setting the collaborating artists against each other in direct, overt competition. These competitions will take the form of duels between pairs of artists, where they will wield an entire arsenal of artistic possibilities with only one goal in mind: to create an artwork that is both the process and product of antagonistic collaboration.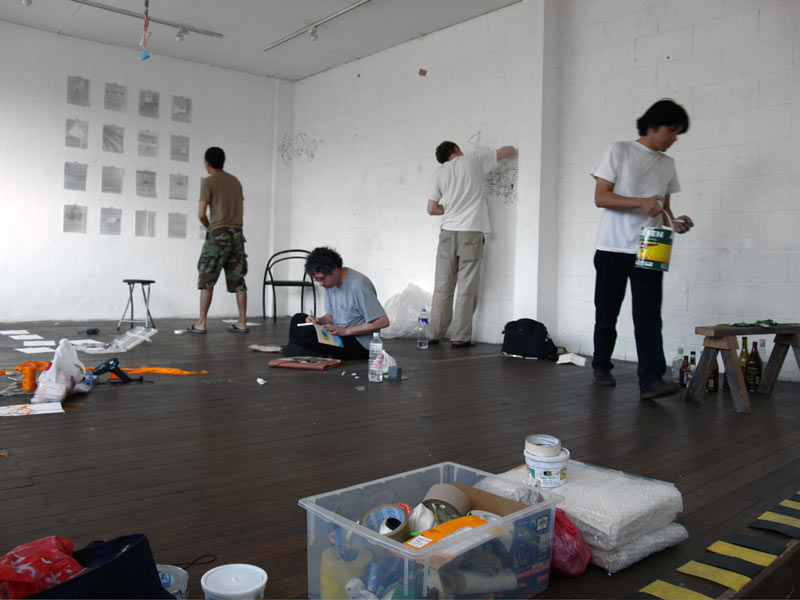 The War Show: Tactics, required weeks of negotiation and planning, and one action-filled day of installation. The pairs were as follow: Riza Manalo vs. Julie Bilecki
Mike Estabrook vs. Ernest Concepcion
Emmanuel Migrino vs. Lena Cobangbang
Jennifer Berklich vs. Gary Ross Pastrana
Glen Eden Einbinder vs. Alvin Zafra
Vandana Jain vs. Ronald Anading
William Fox vs. Dormafe Baluyos-Fox
+ impromptu trio of spies: David Gould, Karlo Olavides, and Jun Sabayton
+ one unknown saboteur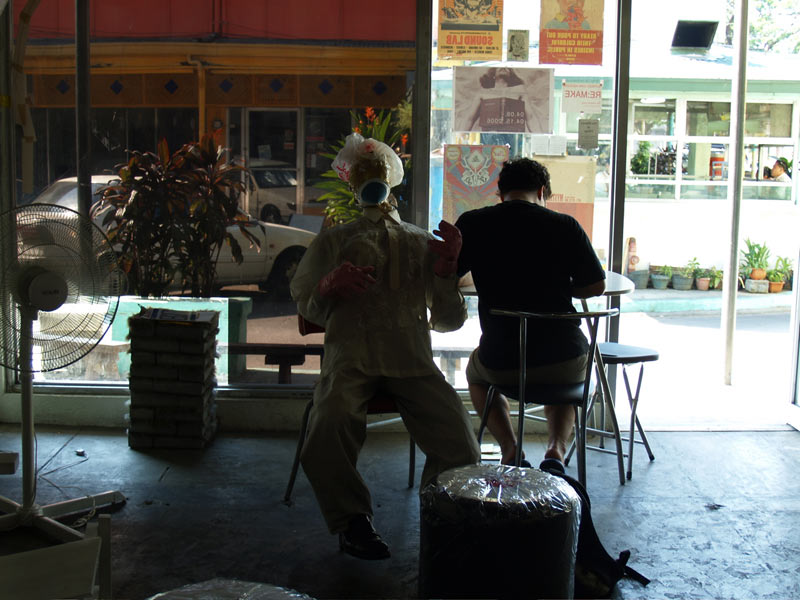 Glen and Alvin chose to trade the materials of execution. Glen brought some black sandpaper and white charcoal pencils to trade Alvin for his white paper and lighter. Then they both created 5 drawings with each set of media. Glen's work explored trading card vernacular, but used real species of jellyfish rather than pokemon or magic characters. Alvin drew a set of circles for his contribution. The installation mixed the works from both artists.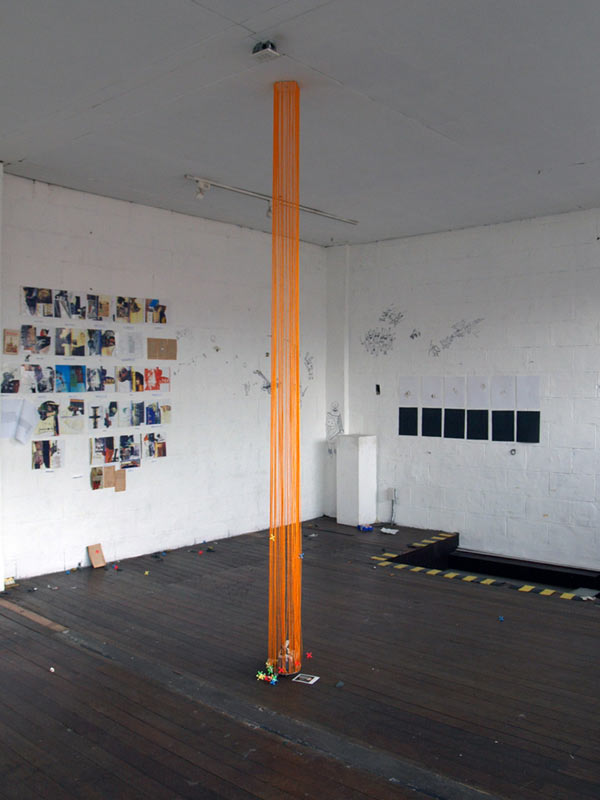 Jennifer and Gary agreed that Gary would make a sculpture and that Jennifer would imprison it within a cage of orange thread. Gary created an actual size model of a Rubik's cube out of kneaded erasers, and Jennifer spent an entire day stringing orange nylon line from the ceiling to the floor to create a visual barrier around his work.
Emmanuel and Lena chose to transfer the burden of battle onto the viewers, but providing and ample supply of jacks and army men throughout the gallery floor. The saboteur made note of this, and utilized the army men in particular to wage her own secret battles.
Throughout the opening, other works were insinuated into this dialogue, and the ubiquitous jacks & army men were not spared.
Mike and Ernest decided to parcel out the day into various ages, one per hour. For the first half hour, they would draw a scene from that particular era, and for the second half, they would draw attacks onto their opponent's scenes. In this manner, they proceeded through half a dozen ages, starting from the Caveman Era and ending with the future Post-Nuclear Helltimes.
(A significant number of Sharpies were harmed in this work of war)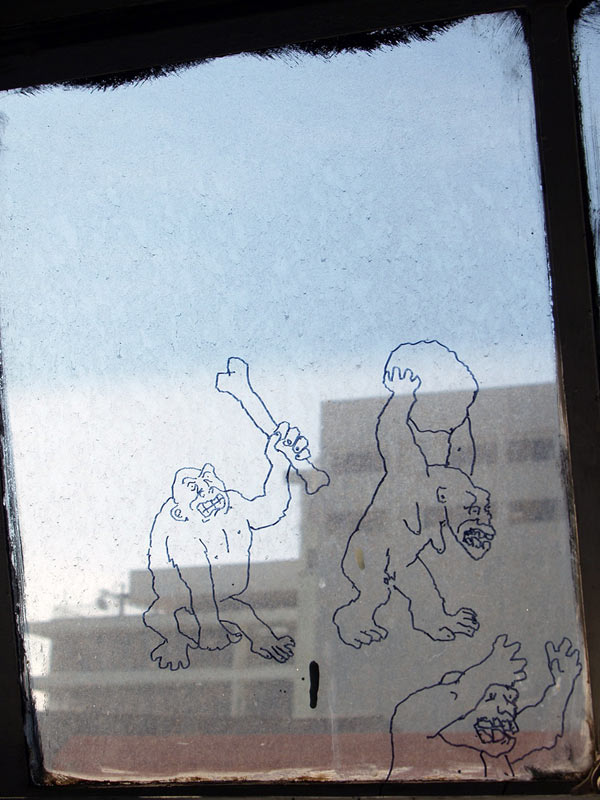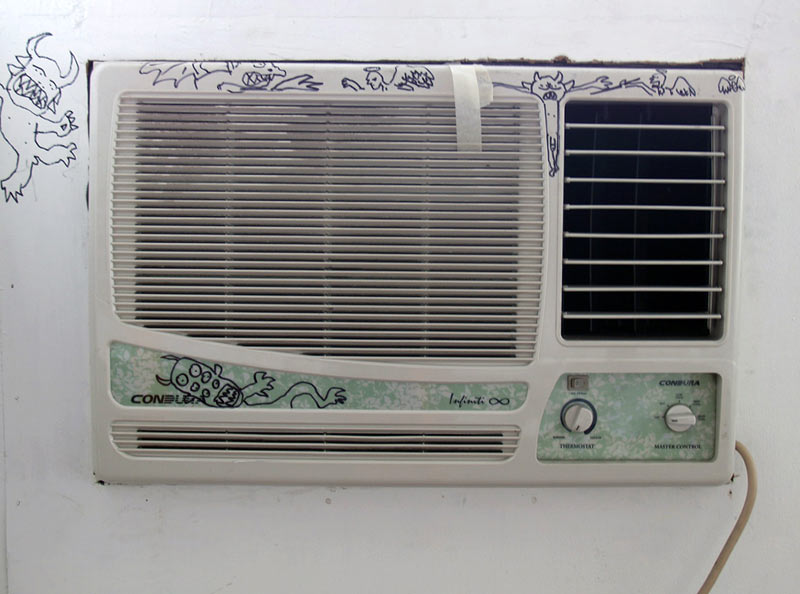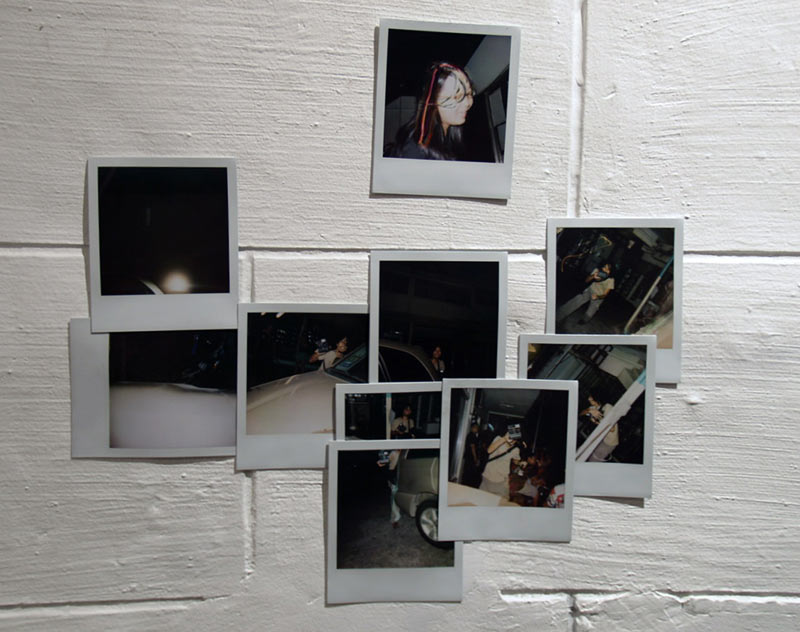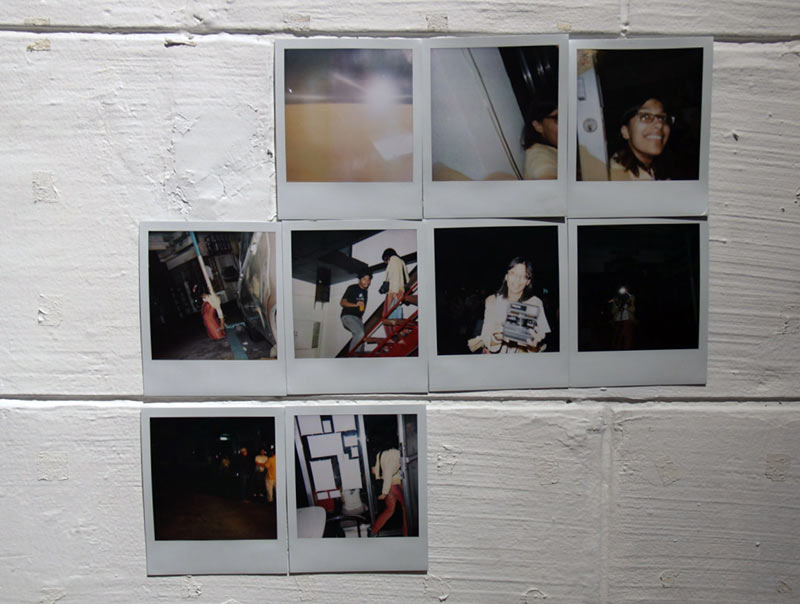 Vandana and Poklong fought a Polaroid War. The object was to shoot the other person as often as possible and as completely as possible with one roll of ten shots. After a bit of a scuffle, they ended up running around a large SUV, blinding passerby with their flares. The polaroids were displayed as artifacts, and no winner was declared.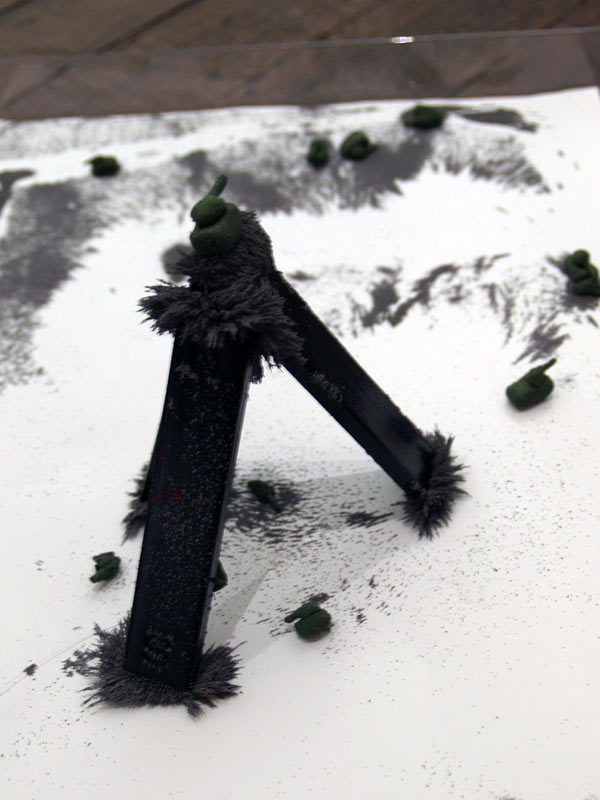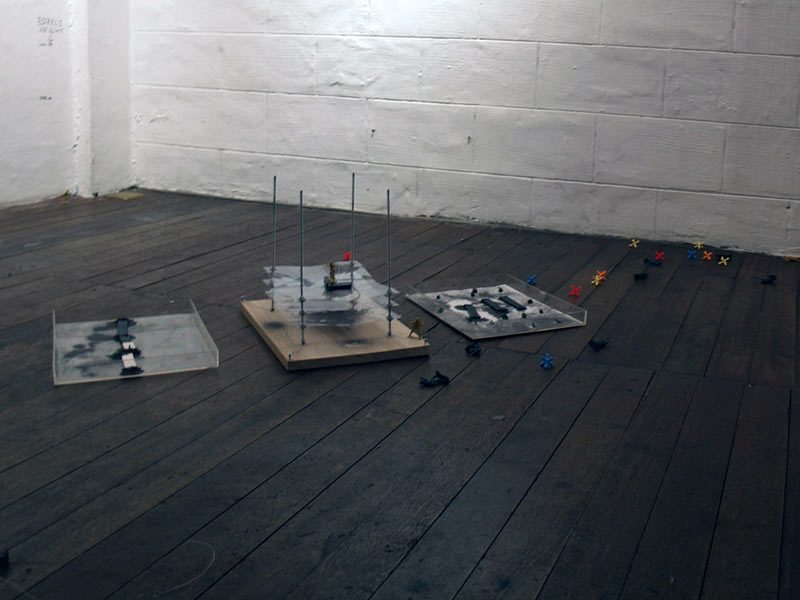 Billy and Mafe created a plexiglass structure and placed some magnets and iron filings that could be manipulated by the audience. This photo, we see the classic, pyramidal formation. The work was in flux throughout the opening.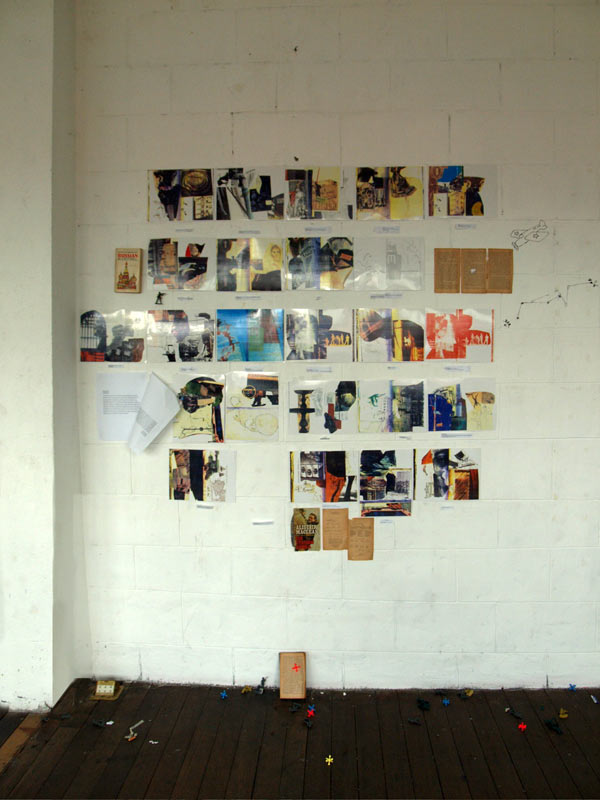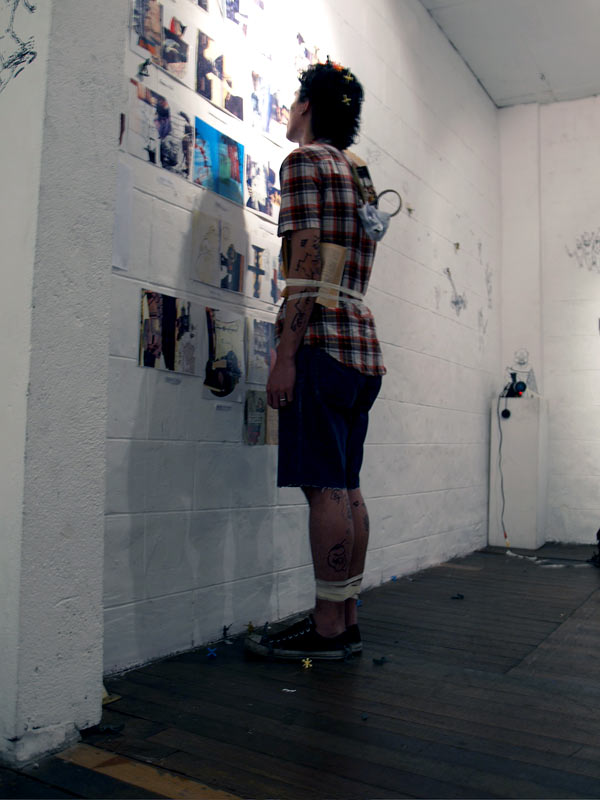 David Gould photocopied and collaged photos with text drawn from WWII spy novels. For the duration of the opening, Kaloy stood unmoving at one point amongst the wall installation. During his performance, visitors tried to cajole, trick, and otherwise get him to lose his concentration. The entire performance was filmed by Jun Sabayton, and broadcast as a live feed.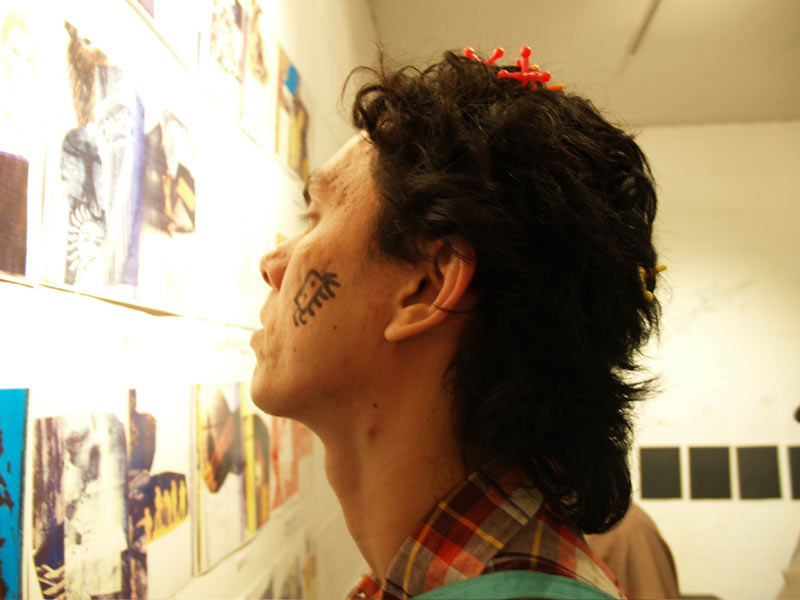 Kaloy was much decorated during his three hour performance.